It is time to complete the immunostaining protocol with guidance from Jo-Maree. I must admit that with holidays looming, my note taking was a bit sketchy. I will need to follow up with Jo-Maree to record the correct details of DAPI and Fluorescein Phalloidin stain. This will ensure that I know how to prepare (and order) stocks in the future.
I already prepared a couple of wells at different cell concentrations ready for staining.  We had to delay the protocol, so some of the higher concentration wells are likely a bit over-confluent. It will be interesting to see how they look under the fluorescence microscope.
CELL FIXATION: 'Dirty' Biolab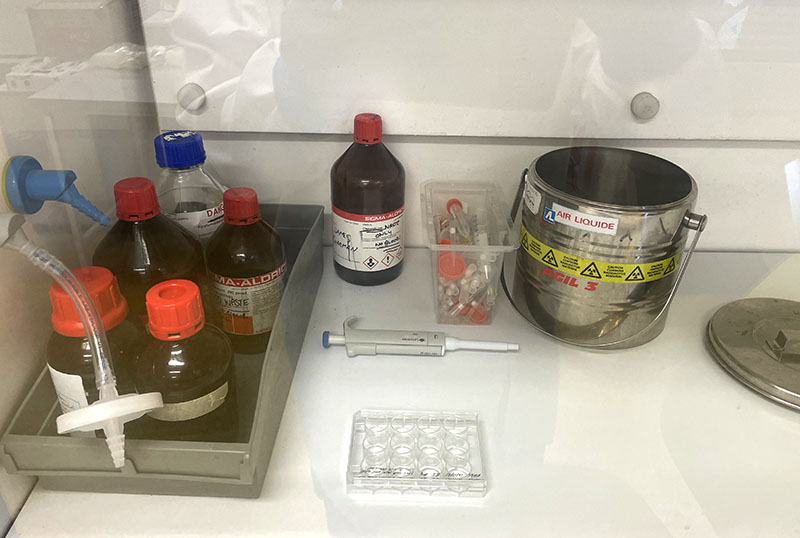 Working with 4% PFA in Fume Hood
Prior to imaging, I fixed the cells in 4% PFA:
Remove culture media (discard in waste container with bleach)
Wash cells with PBS (discard in waste container with bleach) x 2
Move cells to fume hood
Add 4% PFA to each well for 15 – 20min at room temp (in fume hood)
Remove 4% PFA solution (discard in PFA waste container in fume hood)
Add PBS (make sure cells are covered or they dry out and produce poor images
IMMUNOSTAINING: At lab bench area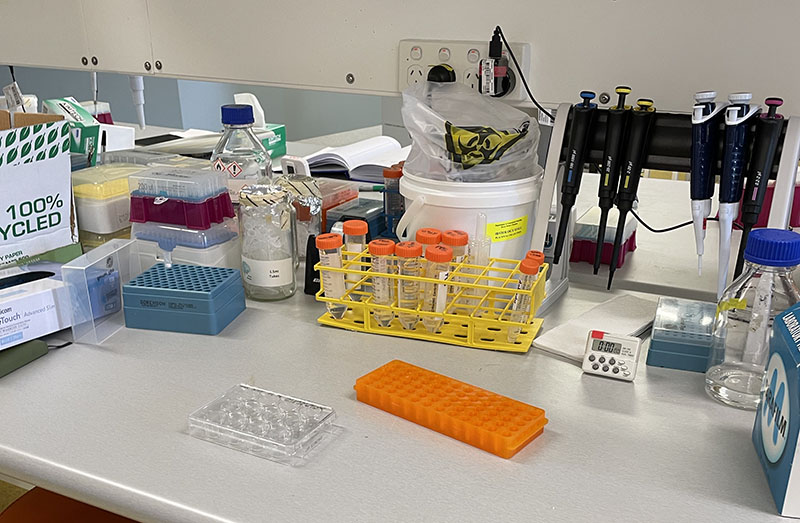 Working at lab bench in the Stroke Group area
Remove PBS from each well
Add 1mL 0.3% Triton X-100 (a strong detergent) to permeabilize cells (make cells permeable – this allows the phalloidin stain to enter the cell structure) for 10 min
Make up DAPI (5mL PBS Tween and 1ul DAPI) and protect from light with aluminium cover
Remove Triton X-100 and add 1mL DAPI solution to each well and incubate at room temp (with aluminum cover to protect from light) for 5 minutes

Make up Flouroscein Phalloidin (1mL PBS sand 2μL Flouroscein) and protect from light
Remove and discard DAPI solution
Add 1mL PBS 0.1% Tween to each well for 5 min then discard x 3 (i.e. wash with PBS Tween x 3)

Add Phalloidin stain to each well.
Incubate at room temp for 1 – 2 hours
Remove Phalloidin solution
Wash with PBS Tween x 2
Add 1mL PBS in each well
Cover with aluminum foil to protect from light.
Cells are ready for imaging. They can be stored in the fridge (with aluminium foil cover) until ready.